Knitted Knockers MAL
Welcome to the Knitted Knockers Make-A-Long! We are working with Knitted Knockers to provide over 1000 (we hope) hand made prosthesis to breast cancer survivors.
Join your hosts, Thread & Maple and the Grocery Girls, for the chance to win awesome prizes!
Here's what you need to know: 
The MAL runs from October 21-November 30.
The MAL is hosted on Ravelry - it's the only way to enter your finished Knockers.
Knockers can be knit or crochet using the patterns below or one of the Knitted Knockers approved guides.
You MUST use Knitted Knockers approved yarn. We've put together Knitted Knockers Kits that have everything you need to knock out some knockers. All profits of kit sales go to KnittedKnockers.org
The Prizes!
Two lucky winners will take home one of these beautiful bundles, made possible thanks to our generous sponsors.
MAL Prize #1:
Stephen and Penelope: Bicycle - "Morgaine" " Pickle Juice "
Yarnboler: Handcrafted Faux Fur Pompom
Arcane Fibre Works: Fingering  - "Beauty on the Beach", "Fluorescent Fall", DK- "Beauty on the Beach", "Fluorescent Fall"
Maker's Clean - Rose Fibre Cloth
Twisted Ambitions Yarn - 6 Skein Fade
MAL Prize #2:
Knit Collage - Wanderlust "Pink Moon"
Arcane Fibre Works - Chunky "I Don't Believe in Humans", DK "Peach Petals "
Yarnboler - Handcrafted  Faux Pompom
Thread & Maple - Rose Leather Tape measure
Fuzzy Goat - Fuzzy Fix Box - Ryan Yarn, Pattern - Corrina Ferguson, Never Not Knitting - Curly Cable needle, Sam's Trinkets - Progress keeper
Maker's Keep - Rose Fibre Cloth
Why Knitted Knockers? 
Traditional breast prosthetics require special bras to hold the hot, sticky, and often heavy prosthetics which can't be worn for weeks after surgery. But Knitted Knockers are soft, natural, and comfortable, taking on the look and feel of a real breast when placed in a regular bra. Not to mention they're machine washable. 
Knitted Knockers are provided to survivors for free and they are in great demand. 
So over the next 2 months, knitters and crocheters will gather to donate their time and craft to hand make these fabulous, customizable breast prosthetics for women effected by breast cancer.
Using Approved Yarns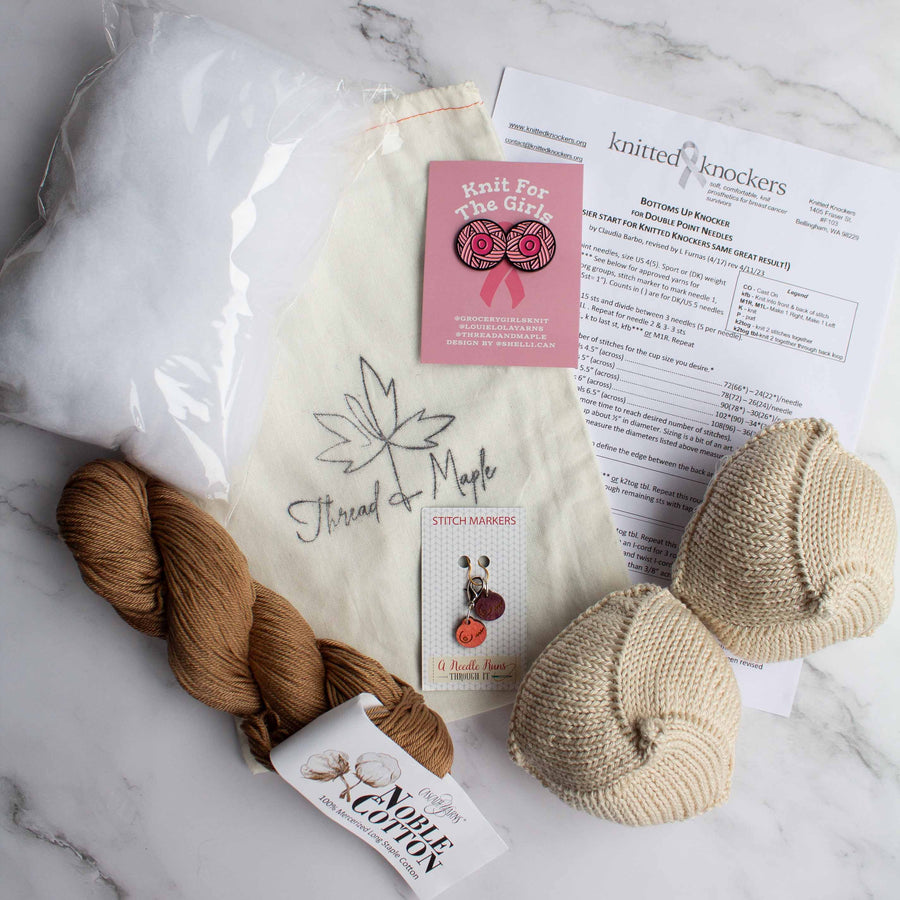 You can grab one of our Knitted Knockers kits--which is stocked with enough approved yarn in needed colors to knit or crochet 2-3 Knockers and printouts of the patterns and sizing charts.
You can get yarn ONLY from this approved list. These yarns have been heavily tested and vetted so that they do not exacerbate highly sensitive skin/surgical areas. 
If you are choosing your own yarn, please note that they're looking for light and dark neutral shade--aka the full range of skin tones. And crocheted Knockers need to use lighter weight yarns to achieve a similar softness and flexibility. 
Knitted Knockers Patterns
Grab a free copy of the top two Knitted Knockers patterns (printed copies included with each kit).  
Knitted Knockers has a range of patterns available, so you can find one that suits your knitting or crocheting style. 
Sizing
Knitted Knockers most desperately needs matching B, C, & D cup prosthetics, with C's being the most requested size. 
You can get the exact right size every time with the printable sizing chart. 
Donating Your Finished Knockers
You can find a local drop off location or mail your Knockers in to one of three locations, based on your home country! (Don't forget to take pictures first to be able to enter them into our MAL giveaway!)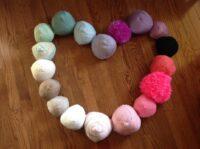 USA
Find a drop off location here. Or send unstuffed knockers to:
Knitted Knockers Support Foundation
1405 Fraser St. #F103
Bellingham, WA 98229
Canada
Find a drop off location here.Or send unstuffed knockers to:
Knitted Knockers of Canada
115 Fiddlehead Cres.
Waterdown, ON
You're also welcome to bring them by the Thread & Maple office! We'll have a collection box outside for easy drop offs!
Thread & Maple
460 Victoria Ave suite A
St-Lambert QC
J4P2J4
Around the World
If you're in Australia, check out Katrina of Louie & Lola Yarns Knitted Knockers MAL for specific instructions. 
There are amazing Knitted Knockers organizations around the world. Find an organization in your country in the Knitted Knockers International Registry. 
Entering on Ravelry
Thanks so much for volunteering your time and effort to help build up other women! You should totally be entered to win some fabulous prizes. And you can be!
Simply submit a photo of your finished Knockers in the Knock Out thread in our Knitted Knockers MAL Ravelry group! (1 photo of 6 knockers = 6 entries)
For every photo of a Knocker submitted between October 21st & November 30th of 2023, you'll be eligible to win one of our prize bundles.
The Fabulous Prizes
While the ultimate prize is bring comfort and love to courageous survivors, we've also got 4 fun prize bundles! (Prize pics coming shortly!)